Helping people connect with God & with each other
---
---
Our Father which art in heaven, Hallowed be thy name. Thy kingdom come. Thy will be done in earth, as it is in heaven. Give us this day our daily bread. And forgive us our debts, as we forgive our debtors. And lead us not into temptation, but deliver us from evil: For thine is the kingdom, and the power, and the glory, for ever. Amen
We invite you to worship with us on Sunday, February 7th @ 11:00 AM.
Join us as we learn more about "Trusting Jesus"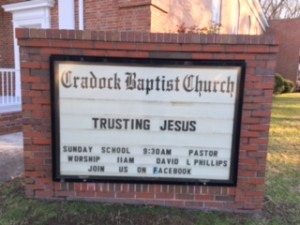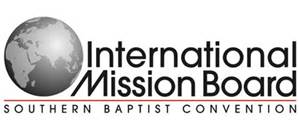 We invite you to MARK YOUR CALENDARS for February 14th at 11:00 AM. You won't want to miss a special opportunity to hear from two very special people. Joining us to share their experiences as missionaries are Mark and Pam Grumbles. For most of their 35 years with the International Mission Board, they were in Costa Rica where they served in Evangelism, Discipleship, Church Planting, Leadership Training and Administration.
Come and hear first hand of the ministry of Mark and Pam Grumbles. Mark is a native of Richmond and Pam is from Franklin, VA. They retired from service in December, 2015 and now make their home in Richmond.
They will join us in the 11:00 AM Worship Service on February 14th to share their many experiences, their love of the Lord and surely challenge us to share the love of Jesus Christ in our own neighborhoods.
 

This Week at Cradock Baptist Church
Monday, February 1, 2016
11:00 AM – Lifeline (Al-Anon)
12:00 PM – Cradock Oasis (AA)
6:00 PM – Knitting Nights
Tuesday, February 2, 2016
12:00 PM –   Cradock Oasis (AA)
12:00 PM – Staff Meeting
1:30 PM – 4:00 PM – Pastor's Office Hours
5:30 PM – Strategic Planning Committee  
Wednesday, February 3, 2016
12:00 PM – Cradock Oasis (AA)
6:00 PM – Youth Group
6:30 PM – Prayer/Bible Study
Thursday, February 4, 2016
12:00 PM – Cradock Oasis (AA)
5:30 PM – Acteens
7:00 PM – Choir Rehearsal
7:30 – 9:00 PM – Freebird NA
Friday, February 5, 2016
12:00 PM – Cradock Oasis (AA)
7:00 PM – Dessert Fellowship Night – Movie:  "War Room" 
Saturday, February 6, 2016
10:00 AM – Door Knocking
10:00 AM – WMU Leadership Team Meeting at West Norfolk
8:00 PM – Al-Anon Family Group & Cradock Study Group (AA)
Sunday, February 7, 2016
9:30 AM – Sunday School
10:00 AM – Robin Class
11:00 AM – Worship Service
7:30 PM – Cradock Study Group (AA)
Deacon of the Week:  Phyllis Kraatz
**************************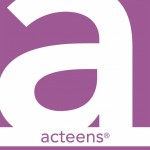 Join us for "ACTEENS" …
ACTEENS are a part of the Cradock Baptist Church ministry beginning Thursday, January 7th.   If you are interested in being involved in missions and ministry, come and be a part of this program.  Acteens meet each Thursday at 5:30 PM.
Acteens® is a missions organization for girls ages 12–17 or in grades 7–12. Through Acteens, teenage girls have opportunities to grow in their relationships with God and their peers. Acteens learn to look beyond themselves and become actively involved in missions and ministry.
This program at Cradock Baptist Church will be launched by dedicated leaders focusing on assisting youth to work together to serve the Lord though missions.
For additional information, contact our church office at 485-3500.
A word from the pastor …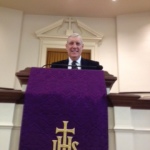 We are all ready into the New Year and just like last year, time is a flying. But we are approaching one of the most holy times of the Christian calendar, that being Lent.
Most churches stress giving up something for Lent but that has never made sense to me. As we celebrate Ash Wednesday which marks the beginning of Lent and we remember that Lent ends with Easter, we should reflect on the Cross and the supreme sacrifices made for you and me.
I suggest you take a few minutes to consider an extra service or dedicating more of yourself to our Lord in view of all He has done for us. Maybe you will want to start off the New Year with getting involved with more activities and using the talents given you in service to the Lord and to your Church. Maybe you will choose to spend more time in Prayer and Bible Study so you can strive to grow Spiritually during this New Year. Maybe you need to determine to be a better steward of the material gifts He has entrusted you with. Whatever you choose, our Lord and Savior is worthy of all we choose to give Him.
Keep all this in mind during the Lent season and plan to be a part of the special services beginning with Ash Wednesday, February 10, at 7:00 p.m. The emphasis is on serving Our Lord and our church.
Palm Sunday is March 20 and our choir will present our Easter cantata. It will be fol-lowed by our annual Easter luncheon. I am also asking each member to each one bring one on this Sunday to celebrate on this special day. Remember to bring enough food to feed your visitors.
Easter is the following Sunday, March 27. Services begin at 6:30 a.m. with a Sunrise Service. It is followed by breakfast from 7:30-9:00 a.m., Sunday School at 9:00 a.m. and Easter Morning Worship at 10:00 a.m. (Please note morning worship is an hour earlier than normal.) What a great time to bring your friend or friends you brought to Palm Sunday to Easter Services as we celebrate the most Holy Day of the Christian Year!! This is truly a time of celebration so let us celebrate together!
In His Service, Your Pastor: Dave Phillips
---
.
After Church Social
Join us for our after church social the 1st & 3rd Sundays
 immediately following our 11:00 AM worship service.
Everyone is invited.
---
"Operation Inside Out"
Since our March church-wide luncheon, "Operation Inside Out" has been involved in initiating a number of outreach efforts including (1) the distribution of Cradock Baptist Church cups to more than 40 children who attended Movie Night, (2) the distribution of more than 1000 door hangers in the Cradock community sharing our Easter services calendar as well as our normal schedule, (3) the Cradock Baptist Church sponsorship of a Cradock Little League team, (4) posting of signs  in the community  announcing our Easter Services and the Children's Easter Celebration and our youth participating in the 97th annual 4th of July bike parade in Cradock.
In addition to these efforts, we continue to listen to the congregation and request additional ideas and suggestions to support "Operation Inside Out".   This effort is only successful with the Lord's guidance and the support of our entire church family.  We are encouraged by comments of some who attended our Easter services who let us know that the door hangers, signs and our social media (website & Facebook) were instrumental in leading them to our church.  What a blessing to have 85+ children at the Children's Easter Celebration, 50+ at the Easter Sunrise Service and 100+ at the 10:00 AM Easter Worship Service. 
The committee has most recently been involved in meeting with every committee of the church to find ways to work together in support of Operation Inside Out.  These meetings have resulted in a spirit of open communication and valuable recommendations as we seek to share the ministry of Cradock Baptist Church in the Cradock community.
Our focus at this point is Cradock Baptist Church outreach, supporting the youth program and all other efforts focused on ministering to the Cradock community.  Most recently, the youth constructed a "Falling for Jesus at Cradock  Baptist Church" float and participated in "Come Home to Cradock" celebration.  Fall Fest on October 24 for children and youth of the Cradock community was a huge success.  The social hall was filled with children and youth from the community as well as church volunteers  sharing food and fellowship.
As the holidays approach, the membership of this church is preparing for Thanksgiving and gathering food for baskets to be distributed in the community to those in need.  The community Thanksgiving Service will be held at Cradock Baptist Church this year on November 25 at 7:00 PM. 
Following Thanksgiving, we are focused on sharing the Christmas story with the Cradock community and beyond through the Christmas cantata on December 13 at 11:00 AM, a live nativity on the church grounds complete with live animals on December 21, 22 and 23 from 6:30 to 8:30 PM and the Christmas Eve candlelight communion service on December 24 at 7:00 PM> 
Our prayers for our church are being answered.  Please continue to pray for our church and "Operation Inside Out" as we continue to seek the Lord's will and guidance for Cradock Baptist Church. 
---