Leading everyday people to know Christ, love others and serve the world ….
---
---
October 19th was a  GREAT DAY at Cradock Baptist
Cradock Baptist Church – 95th Anniversary
October 19, 2014
"Come, Let Us Sing for Joy"!
A very special thank you to Bob & Esther Burroughs for their contributions to our 95th Anniversary on October 19th!  Bob wrote an anthem for this special day at Cradock Baptist and directed our anniversary choir.   Esther  delivered a stirring message challenging us all to take our ministry outside the walls of this church.
Bob Burroughs is a composer and arranger of church music, attended Cradock Baptist in his early years and is a 1955 graduate of Cradock High School. He has served as Minister of Music in both full time and part time situations. Bob served on the music faculties of Samford University, Mercer University and Psalm Beach Atlantic University. He was, for eight years, Director of the Church Music Department, Florida Baptist Convention.
Esther Burroughs is Director of "Esther Burroughs Ministries … Treasures of the Heart", a speaking/writing ministry. She served as National Consultant with the Evangelism Department, Southern Baptist Home Mission Board, Atlanta GA for 18 years. She has traveled throughout the USA, Canada, Asia, Europe and Africa, and has been involved in missions throughout the world.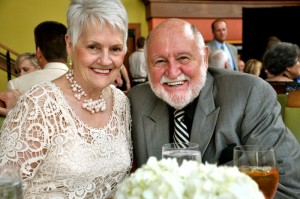 We are thankful for  Gazelle Moore Phillips and Harvey Bryant, Jr.  who participated in our service as well as Rev. Lynne Kelley.  Gazelle is the daughter of former Pastor Garland Moore and Harvey Bryant, Jr. is the son of former Pastor Harvey Bryant, Sr.   Rev. Lynne Kelley was ordained at Cradock Baptist 34 years ago.  In addition, we thank our 95th Anniversary Choir and the musicians for their truly spectacular music.
The sanctuary was filled with  400 Cradock Baptist members, former members, friends and family.  The worship service was followed by a catered luncheon where many friendships were renewed and many memories  of Cradock Baptist shared.  It was a day of thanksgiving and revival.  Now, we are all focused on the Lord's will for our church as we seek to take our ministry outside the walls of Cradock Baptist Church.  Join us this Sunday at 11:00 AM and be a part of our revival!
**********************************************************************
REMINDER:  Daylight Savings Time Ends Sunday Morning at 2:00 AM  
Turn  your clocks BACK an hour
*********************************************
---
Wednesday – October 29th
6:00 PM – Youth Group
6:00 PM – Prayer and Bible Study     
---
---
Deacon of the Week
 

Chris Allsbrook
October 26th – November 1st
---
Fall Festival

–

October 26th
Thank you to all who volunteered their time and contributed to a successful Fall Festival!
---
.
After Church Social
Join us for our after church social every Sunday immediately following our 11:00 AM worship service.
Everyone is invited.
---
Choir Practice
 

Thursday, October 30th @ 7:00 PM in the 2nd floor Music Room
New members are welcome!
---