Leading everyday people to know Christ, love others and serve the world ….
---
---
December 14, 2014
 Another GREAT DAY at Cradock Baptist
Cradock  Baptist Church
Choir
presented
Holy Night of Miracles
One miraculous night in Bethlehem changed the course of human history forever.  Foretold by Old Testament prophets, the Messiah entered the world and, even more importantly, the hearts of people from all walks of life with a message of hope and love.
Blending familiar carols with new Christmas anthems Holy Night of Miracles is a timely reminder that the hope born on that first Christmas night is still needed today and ultimately found in the miraculous Child born in Bethlehem.  Heart-warming music, inspiring narration and congregational singing make this a moving worship experience for choir, orchestra and congregation.
The presentation of Holy Nights of Miracles was truly a blessing to all on Sunday.  The choir and orchestra delivered a beautiful Christmas service through their music. 
As we continue our Christmas services, we invite you to join us for our Christmas Eve Candlelight Communion Service on December 24 at 7:00 PM.
---
Message from the Pastor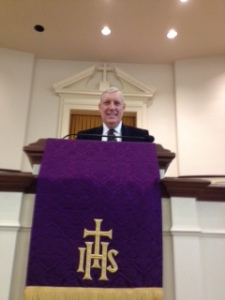 By the time you read this, we will have celebrated Thanksgiving.  As we transition from Thanksgiving to the coming of Christmas, I hope you will continue with the thoughts of what our Lord has done for us and that we are Blessed people.
During Advent, we will focus on the candles and their meanings.  Hopefully, we have started to realize how much our Lord and Savior, Jesus Christ, has done for us and are in a state of thankfulness for his many blessings and gifts.  But no gift can top the giving of one's life so others may live for all eternity in Heaven with our Savior, Jesus Christ, for He is the Reason for the Season. For on that Holy Night of Miracles, God came to us as a child born in a manager with nothing, to show us what God was like, and to prove how much He loves us, enough to die for us.  As you enter your daily prayers during the season, let me encourage you to be open to His leading and how He can revive you to be his servant: to spread His Truth of Salvation and His Love to our community.
In the new year, join us on Wednesdays at 12:00 noon for the Hour of Prayer as we pray for this body of believers and seek revival so Cradock Baptist Church can once again be a Lighthouse to this community that desperately needs a new life that only Jesus Christ can provide and that He can do it through ordinary people such as us.
In His Service, Your Pastor:  David Phillips
---
---
Deacon of the Week
Jeannette Fritts
December 14   – December 20 
---
This Week @ Cradock Baptist
Monday – December 15, 2014
11:00 AM – Lifeline (Al-Anon)
12:00 PM –  Cradock Oasis (AA)
7:00 PM – Dress Choir Rehearsal
Tuesday – December 16, 2014
12:00 PM – Cradock Oasis (AA)
Wednesday – December 17, 2014
12:00 PM – Cradock Oasis (AA)
6:00 PM – Youth Group
Thursday – December 18, 2014
12:00 PM – Cradock Oasis (AA)
7:00 PM – Choir Rehearsal
7:00 PM – Freebird NA
Friday – December 19, 2014
12:00 PM – Cradock Oasis (AA)
Saturday – December 20, 2014
8:00 PM – Al-Anon Family Group / Cradock Study Group ( AA)
10:30 to Noon – Door Knocking
Sunday – December 21, 2014
11:00 AM – Worship service
Guest musician, Kyle McCormic playing the steel drums
Looking ahead …
Christmas Eve Candlelight Service
Wednesday, December 24th @ 7:00 PM
---
.
After Church Social
Join us for our after church social every Sunday immediately
following our 11:00 AM worship service.
Everyone is invited.
---
---