Leading everyday people to know Christ, love others and serve the world ….
---
---
October 19th was a  GREAT DAY at Cradock Baptist
Cradock Baptist Church – 95th Anniversary
The REVIVAL Begins!
We would like to say a very special thank you to all who participated in, supported and attended our 95th Anniversary on October 19th.
Many a prayer was answered as we prepared and participated in this joyous event.  What a blessing to have the sanctuary and choir loft full once again.  Thanks be to God!
As we focus on the  start of a great revival within our church, our hearts continue to be touched by the message from Esther Burroughs and the beautiful music  of our anniversary choir lead by Bob Burroughs.    Touched by our Lord and how He used so many of his servants to touch  all of us through this anniversary, we have already begun our focus on our ministry of  reaching out beyond the walls of Cradock Baptist Church.  We truly have a story to tell!
With Thanksgiving approaching, we invite you to join us for the

Community

 

Thanksgiving Service

on

Wednesday, November 26th at 7:00 PM

. 
Invite your family, friends and neighbors to join in this community service as we give thanks for more blessings than we can count!
***********************************************************************
New at Cradock Baptist
Cradock Baptist Hour of Prayer
Our Chapel doors will be open for the

Cradock Baptist Hour of Prayer from Noon to 1:00 PM
EVERY WEDNEDSAY

starting November 12th.
We invite you to come and join us as we pray for Cradock Baptist and the Lord's will for His church as we serve the community in the days ahead.
If you cannot join us in the Chapel,  we ask that you pray for Cradock Baptist wherever you are

on Wednesdays at Noon.
---
Events this Week
Monday – November 24th – 6:00 PM – Knitting Nights
Tuesday – November 25th – Choir Rehearsal 
********************************
Wednesday – November 26th – 7:00 pm
Community Thanksgiving Service
Rev. Jeff Keeney of Cradock Presbyterian will deliver our Thanksgiving message.  Music will be provided by the combined choirs of Cradock Baptist Church and Cradock Presbyterian Church. 
Come and give thanks with us! 
*************************************************************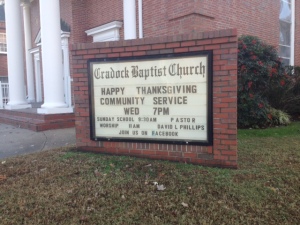 ---
---
Deacon of the Week
Marcia Swale
November 23rd – November 20th
---
Thanksgiving Baskets
Cradock Baptist will once again be preparing Thanksgiving baskets for families in need.
Donations needed include:  green beans, stuffing, cranberry sauce, sweet potatoes, rolls, turkeys, etc.
  Monetary donations are also welcome.
Please bring your donations to the church by Sunday, November 23rd.
Volunteers are also needed to assemble and deliver the baskets.
---
.
After Church Social
Join us for our after church social every Sunday immediately
following our 11:00 AM worship service.
Everyone is invited.
---
Poinsettias / Lottie Moon Christmas Offering
If you would like to place a poinsettia in the Sanctuary or make a contribution in the name of your loved one to the Lottie Moon Christmas Offering, please fill out the form in the November newsletter or call the church office. 
Poinsettias are $10.00 each and will be in the Sanctuary for three  services.  They may be taken home following the Christmas Eve Service.
Please submit your request and payment by Sunday, December 7th.
---