Leading everyday people to know Christ, love others and serve the world ….
---
---
 
---
Message from the Pastor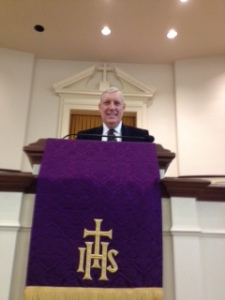 By the time you get this newsletter, Christmas will have just   passed. This year has just flown by and the new year is upon us. We had several great accomplishments this past year which included the 95th Anniversary Celebration with Bob Burroughs and the Holy Night of Miracles cantata that was performed on December 14. But we must not rest on our passed accomplishments but look forward to how God wants this church to minister to our struggling community. With this in mind, I am forming a Strategic Planning Committee that will brainstorm how to make our church known within the Cradock Community. Also, it will focus on how we can reach out to those in need and show them that Cradock Baptist cares and is a place to find forgiveness and direction for their lives.
 With this in mind, shortly after the new year begins, I will be teaching a book on Wednesday nights, "Spiritual Disciplines for the Christian Life." It is a book study with a workbook but it does not include a DVD. My current reading has convinced me that this is a necessary element in the Christian life, if we are to grow closer to our Lord. We need certain disciplines we perform regularly so we might prepare ourselves to grow closer to our Savior and Lord and be in a position to sense and hear God's leading to be His People!! I can not encourage you enough on how important this teaching can be in the spiritual formation of our church and our own spiritual lives. I will announce when this will start as we first need to finish "Forgotten God."
 As we begin the new year in prayer, be prepared for the Lord to do great things with us this coming year as we let the Lord lead us to becoming truly His Church on Mission for our Savior and Lord.
In His Service, Your Pastor: Dave Phillips
---
---
Deacon of the Week
Sue Smith
January 25 – January 31
---
This Week @ Cradock Baptist
Monday, January 26
11:00  AM Lifeline (Al-Anon)
12:00 PM Cradock Oasis (AA
6:00 PM Knitting Nights
Tuesday, January 27
12:00 PM Cradock Oasis (AA)
Wednesday, January 28
12:00 PM Hour of Prayer (Chapel)
12:00 Cradock Oasis (AA)
6:00 PM Youth Group
6:00  PM Pizza Dinner
6:30 PM Business Meeting
Thursday, January 29
 12:00 PM Cradock Oasis (AA), Freebird NA
7:00 PM Choir Rehearsal
Friday, January 30
12:00 PM Cradock Oasis
Saturday, January 31
10:00 AM WMU Leadership Team Meeting at Pinecrest
8:00 PM Al-Anon Family group, Cradock Study Group (AA)
---
.
After Church Social
Join us for our after church social every Sunday immediately
following our 11:00 AM worship service.
Everyone is invited.
---
---