Helping people connect with God & with each other
---
---
Our Father which art in heaven, Hallowed be thy name. Thy kingdom come. Thy will be done in earth, as it is in heaven. Give us this day our daily bread. And forgive us our debts, as we forgive our debtors. And lead us not into temptation, but deliver us from evil: For thine is the kingdom, and the power, and the glory, for ever. Amen
Community Thanksgiving Service
Join us for the annual Cradock Community Thanksgiving Service at 7:00 PM on Wednesday, November 25, 2015.  The guest speaker will be Nate Griffin of Cradock Presbyterian Church.  The combined choirs of Cradock Baptist Church and Cradock Presbyterian Church will perform.  Come and give thanks!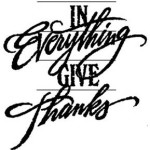 Notes from David L. Phillips, Pastor:
This year has gone by so quickly. Here we are almost into 2016 with only two months left in this year. November is a busy month as we begin the month with a Stewardship Emphasis Sunday to begin our new church year.
Finances are in question as our membership has been reduced mainly from the passing of our saints. I prayerfully ask you to consider what you can give to the Lord's work. This church can exist only because of the tithes and offerings given lovingly as a contribution to the Lord's work and through the dedication of its members. I would ask you to consider prayerfully giving a one time extra tithe to help catch up the budget of the church. Scripture tells us that the Lord loves a cheerful giver and He also promises to meet our needs if we first give to Him. Thus I trust you will realize how Faithful your Lord has been to You and respond in like manner. I have faith you will do what the Lord directs you as He has never not taken care of us when we put Him first.
I hope you will be mindful of the calendar and support the many functions that are on the schedule. We will have a Wednesday Night Thanksgiving Service at 7:00 p.m. on November 25.
In the mean time, be mindful of all of God's Blessings so you can Praise your Lord and Savior on that Wednesday Night for His Faithfulness and Love.
In His Service, Dave
Save These Dates
Thanksgiving Community Service at Cradock Baptist Church – November 25 @ 7:00 PM
Christmas Cantata performed by the Chancel Choir – December 13 @ 11:00 AM
Live Nativity on the church grounds  – December 21, 22 and 23 from 6:30 PM to 8:30 PM
Christmas Even Candlelight Communion Service – December 24 – 7:00 PM
---
This Week @ Cradock Baptist

Church
Monday – November 23, 2015
11:00  AM –  Lifeline (Al-Anon)
12:00 PM –  Cradock Oasis (AA)
6:00 PM – Knitting Nights
Tuesday – November 24, 2015
12:00 PM –  Cradock Oasis (AA) 
1:30 – 4:00 PM Pastor's Office Hours
7:00 PM – Choir Rehearsal
Wednesday –  November 25, 2015 
12:00 PM –  Cradock Oasis (AA)
7:00 PM – Community Thanksgiving Service
Thursday – November 26, 2015
 12:00 PM –  Cradock Oasis (AA)
7:30 PM – Freebird NA
Friday – November 27, 2015
12:00 PM –  Cradock Oasis (AA)
Saturday,  November 28, 2015
10:00 AM – Storehouse Open for Distribution
8:00 PM –  Al-Anon Family Group, Cradock Study Group (AA)

 
Sunday, November 29, 2015
9:30 AM  – Sunday School
10:00 AM –  Robin Class
11:00 AM  –  Worship Service
Noon – Nativity Meeting
7:30 PM –  Cradock Study Group (AA) 
 Deacon of the Week:  Mike Mercer
---
.
After Church Social
Join us for our after church social the 1st & 3rd Sundays
 immediately following our 11:00 AM worship service.
Everyone is invited.
---
"Operation Inside Out"
Since our March church-wide luncheon, "Operation Inside Out" has been involved in initiating a number of outreach efforts including (1) the distribution of Cradock Baptist Church cups to more than 40 children who attended Movie Night, (2) the distribution of more than 1000 door hangers in the Cradock community sharing our Easter services calendar as well as our normal schedule, (3) the Cradock Baptist Church sponsorship of a Cradock Little League team, (4) posting of signs  in the community  announcing our Easter Services and the Children's Easter Celebration and our youth participating in the 97th annual 4th of July bike parade in Cradock.
In addition to these efforts, we continue to listen to the congregation and request additional ideas and suggestions to support "Operation Inside Out".   This effort is only successful with the Lord's guidance and the support of our entire church family.  We are encouraged by comments of some who attended our Easter services who let us know that the door hangers, signs and our social media (website & Facebook) were instrumental in leading them to our church.  What a blessing to have 85+ children at the Children's Easter Celebration, 50+ at the Easter Sunrise Service and 100+ at the 10:00 AM Easter Worship Service. 
The committee has most recently been involved in meeting with every committee of the church to find ways to work together in support of Operation Inside Out.  These meetings have resulted in a spirit of open communication and valuable recommendations as we seek to share the ministry of Cradock Baptist Church in the Cradock community.
Our focus at this point is Cradock Baptist Church outreach, supporting the youth program and all other efforts focused on ministering to the Cradock community.  Most recently, the youth constructed a "Falling for Jesus at Cradock  Baptist Church" float and participated in "Come Home to Cradock" celebration.  Fall Fest on October 24 for children and youth of the Cradock community was a huge success.  The social hall was filled with children and youth from the community as well as church volunteers  sharing food and fellowship.
As the holidays approach, the membership of this church is preparing for Thanksgiving and gathering food for baskets to be distributed in the community to those in need.  The community Thanksgiving Service will be held at Cradock Baptist Church this year on November 25 at 7:00 PM. 
Following Thanksgiving, we are focused on sharing the Christmas story with the Cradock community and beyond through the Christmas cantata on December 13 at 11:00 AM, a live nativity on the church grounds complete with live animals on December 21, 22 and 23 from 6:30 to 8:30 PM and the Christmas Eve candlelight communion service on December 24 at 7:00 PM> 
Our prayers for our church are being answered.  Please continue to pray for our church and "Operation Inside Out" as we continue to seek the Lord's will and guidance for Cradock Baptist Church. 
---